A very Merry Christmas to you, may it be filled with peace and happiness.
I'm delighted to bring to you my final broadcast for this year and to be able to send you may blessings over this Christmas time.
If Christmas time for you is difficult for any reason, drop me a line and I'll prayer for and with you.
If Christmas time for you is exciting, share this with me and I can still pray for your safety in not becoming too overwhelmed.
Now is our time at Christmas when we celebrate the fact that Jesus came as a baby, and will return as a man.
Let's enjoy the remainder of the year before setting our sights on the coming year ahead.
When the Winter days arrive with snow, rain and cold, then there is nothing quite like snuggling up in the warm, maybe by a fire, certainly wrapped in a blanket with a steaming cuppa of your favourite drink and reading a book.
What is your favourite book?  Let me know.
Books have always featured heavily in my life, and I even regard some as old friends.  This will continue into  next year, when I serve others and publish their stories and make the dream of writing and publishing a book come true, I shall be writing some new books including an exciting joint venture with Abbirose, all about a Little Unicorn.
If I can help you out with any Christmas gifts through the books I've written – here are the details.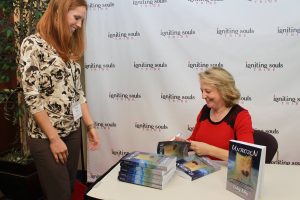 Unfrozen:   How to melt your heart from life's disappointment, disillusionment and discouragement by opening the door and stepping into God's warming light.  Listen to the interviews.   Version 2 is now out – contact me for a copy.
Colours of Unfrozen:   Reflecting, Relaxing and Rejoicing – A believer's Colouring Book for Adults.   This features devotionals and a hidden psalm for each picture.  Our last reader bought a book at Little Paxton Christmas Fair and I was delighted to meet her and talk about her Christian life.
Watch our interview at the Igniting Souls Conference.
Colouring 101:   The ultimate guide for the colouring addict.
Don't know which colouring book to get?  This is a book of lists all about colouring, tongue in cheek approach plus some serious technical points on improving your colouring.
A great extra gift.
What about YOU?   Is there a book Inside YOU?  Let's make your dream of writing a book come true in 2018.
Meanwhile:  2018 will see
Abbirose and I writing a children's series featuring a Little Unicorn – email me to join the journey from concept to publication.
I shall be publishing a devotional book on Ruth – email me to have a sneak preview.
Join me with a regular Podcast, featuring books, writing, publishing and your view on books and the difference they make in your life. – email me to have the first recording.
Pink Parties Press will be publishing new authors and opening applications for others to start their author journey.
I look forward to seeing you again in the New Year, and we'll do it all over again with the weekly broadcasts throughout 2018.
God's Word
When they saw the star, they were filled with joy.
Matthew 2:10 (NLT)
Devotional for life and work
FREE: Receive your
5 day Unfrozen devotional
for life and work
by email. TODAY.